In The Barnyard
Spud and Chicks - Dec 20, 2018
Ian's Basset Hound, Spud, inspects the new chicks we received a week earlier. He was on the outside, looking in, when suddenly, he jumped right in. The chicks did not seem to be too worried. The chicks will take 6 months to grow to mature hens. They should start providing eggs to our CSA members in June.
Tweens Go Outside - March 14, 2016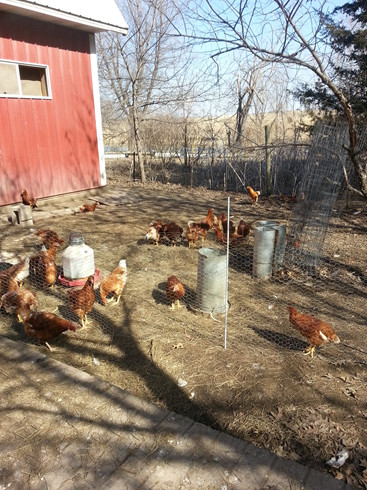 Our "Tweens" (between a chick and a hen) started going outside this week. One hundred future egg layers got to stretch their legs in the warm weather we had. Helps them get used to going outside. Plus see the older hens thru the fence, and get used to them as well. Next step is to use a roost at night in the main barn.
Eggs, Bird Flu and Compost - May 21, 2015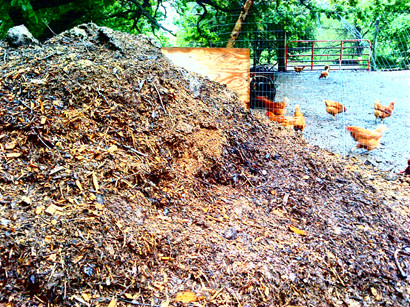 How long can I keep eggs? It's a common question. The answer is 1-2 months. An egg is actually a single cell organism that is sterile inside its membrane. In older days, eggs were valued as they did not need refrigeration and kept for a month or two. Eggs spoil when they finally dry out enough so that bacteria can enter the membrane. To reduce the possibility of spoiled eggs we now refrigerate eggs.
Will we be affected by bird flu? Our chickens go outside and mix with wild birds. So our hens are exposed to common bird influenza and colds and other diseases. So they have had some illnesses over the years, just like we do. Hopefully, that helps them develop a robust immune system, so that if they are exposed to the latest bird flu, they will not be so dramatically affected as those poor turkeys and chickens in the large isolated barns.
How do we make our compost? Chicken manure is high in nitrogen. So we add wood chips to provide a source of carbon. Carbon, plus nitrogen, plus some water is what allows bacteria and mold to make protein and grow their bodies. The undigested fiber and wood cellulose provide a source of energy for those bacteria and molds. The rapid growth creates heat. The first cycle of the compost pile will heat to 160 degrees inside. After a few weeks, the growth slows and the temperature declines. Then we move the pile to our compost bunkers, and in the act of mixing it, starts a second compost cycle of heating that finishes the compost. After 6-9 months, the compost is ready to spread on the field.
Chicks In The Mail - Feb 5, 2015
We received baby chicks in the mail this week. That's right – in the mail. The post office will still pick up and deliver live chicks, just as it did 100 years ago.
When chicks hatch, they still have some yolk left inside them that they continue to draw on for sustenance while they adapt to finding food and water. So they can go for 3 days without food or water after hatching, if needed. If packed carefully, they can keep each other warm as well. We get chicks from Hoover Hatchery in Iowa, so they actually come next day, healthy and happy. The post office calls us when they arrive in the morning, and we drive into town to pick them up right away.
A few years back, we had to order from another supplier and the chicks actually came from El Paso, Texas. So they rode a truck to Dallas, then American Airlines to Minneapolis, and then truck to Buffalo. It took three days to get here – they were fine – but that's a little too far for our comfort.
We have an insulated room in our barn that is our brooding area. We use heat lamps to keep the chicks warm. In nature, the mother hen provides that extra warmth for a couple of months. We have to watch them carefully to make sure that they are not too cold or too hot – but "just right". They are too cold if they are all huddled under the lights and not very active. And the heat lamps are too hot, if they avoid sitting right under the lights – that lets us know we need to raise the lamps higher to reduce the concentrated heat.
Finally, when they are big enough, with lots of feathers, they can be on their own. We like to call them "tweens" – between a chick and a hen. At that point, we move them to an area next to the grown up hens. Its helps them get acquainted with the flock and the rhythms of the barnyard.
Holiday Feast - Dec 24, 2014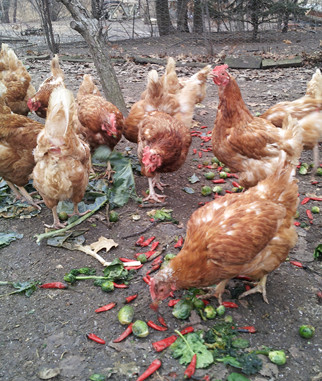 While we wish for a white Christmas, the chickens actually prefer a brown one. Chickens do fine in the cold, but they really do not like walking around on snow. Fresh snow, so white and featureless, makes them think its fog or clouds - like they are on the edge of a cliff. They really hestitate to step into it. So when there is no snow (or at least its dirty melty snow), they feel free to wander far and wide. This December was their cup of tea - little snow and warm temps.
We always save our old produce waste for the chickens, even letting it freeze in a shaded area to bring out a bit at a time, giving them something to eat other than boring old chicken food. Christmas Eve, they got a nice mix of brussels sprouts, kale and chili peppers. The red and green looks festive! Now, it they will just pick up again on their egg laying...
In The Fields
Cabbage Harvest - Sept 13, 2021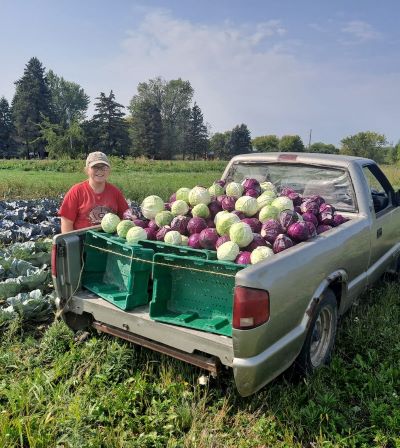 Chloe and Ian picked 1200 pounds of red and green cabbages.
Planting Garlic - Oct 16, 2020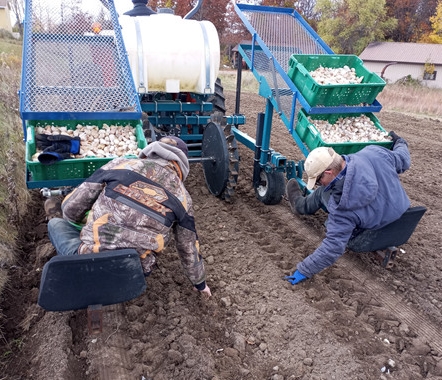 Jordan and Jacob planting Garlic, while Charles drives the tractor. Garlic is like a tulip bulb. Its planted in fall as it needs a cold period to trigger it to grow multiple cloves. We mulch it with straw to protect it from the ups and downs of winter temperatures.
Honey Bees Venture Out - Feb 2, 2020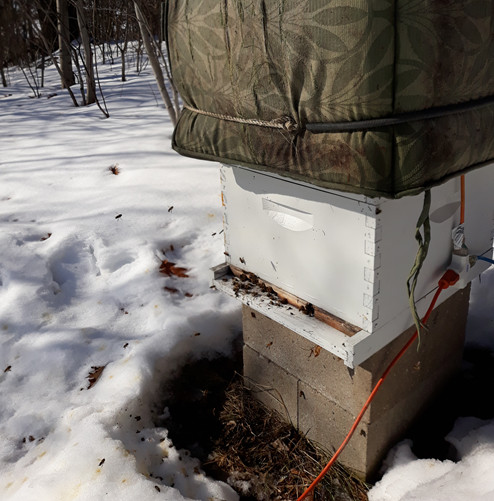 The bees are happy campers today. Sunny and warm! Time to stretch their wings before they hunker down again in the hive to wait out the cold!
High Tunnel Produce - Apr 20, 2019
Jordan and Charles picking produce in the high tunnel while outside temperatures hover in the 30's. Definitely needed this year with the slow motion spring! Lettuce, Mustard, Kale and Bok Choi. Plus radishes, green onions, and even some broccoli for later harvest.
First Starts of the Season - Feb 3, 2018
Leeks and Onions are the first seeds we plant, starting them January 15th. They take 3 months before they are ready to be planted outside in mid-April. Also in the mix is lettuce, spinach and broccoli - which we will plant in our high tunnel for the Spring CSA. We'd like to start planting them in the high tunnel around Feb 15th. However, winter is being pretty persistent this year, so who knows.
Make Hay While the Snow Flies - March 12, 2017
On Saturday, Phil cut marsh hay while the ground was still frozen. On Sunday, we tried to beat the snow by raking and baling in one day (we were not successful). The snow started to come down about halfway through baling and the tractor started to get stuck more and more; hence the tow strap on the front end loader. We did however finish most of it and now have a good stack of mulch at our disposal.
First Produce - March 28, 2016
Its always hard to predict what produce we will have in the spring. While the weather was mild, the sun has not been very reliable. This time of year, the sun makes a lot of difference. While the high tunnel will warm up even on cloudy days, the plants really don't grow much unless they receive bright sunshine. This week's box will have spinach and green onions. Lettuce and bok choi are still too small. Each year its an adventure to see how the spring unfolds. Enjoy the very first produce!
Cover Crops - April 9, 2015
Any time a field is bare dirt, it is exposed to the elements. Wind will blow away top soil. Rain will wash away top soil. And soil nutrients can be lost. So when a field is not in use, we plant a cover crop on it. Cover crops hold the soil in place. And, while they grow, they scavenge any free nutrients, especially nitrogen, which can wash away in rain. Finally, when a cover crop is tilled back into the soil, it increases organic matter, providing food for beneficial bacteria, fungi, and earthworms.
Different covers have different uses. This field has two covers, planted last fall after harvest. On the left is oats and oilseed radish – they grow quickly in fall, but then winterkill, and are ready to disk in two weeks before we want to plant in May. On the right is winter rye, a hardy wheat that survives the cold winter. After growing in the fall, it goes dormant like our lawns, and then greens up and starts growing again in the spring. We like to plant this in low areas that will be wetter in the spring. The growing rye will more quickly absorb the water, drying out the field, and in early June it will be ready to disk in for later plantings in June or July.